February Friday Favorites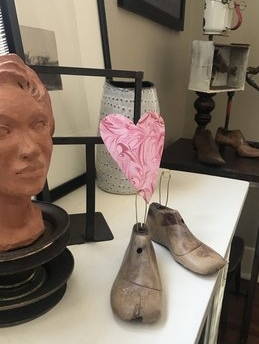 As we are hunkered down in our homes, once again, in the Chicagoland area with another blanketing of snow, I am longing for the beautiful green of spring! Until then, however, I am finding my favorites indoors.
1. Fiddle Leaf Fig
I love the architectural nature of this plant! I've been moving him all over the house this winter to give me surprising moments of green. The latest destination is rather unexpected, but I'm loving it!
2. Mid century chair from Target
I've been watching these chairs at Target for quite some time. In my opinion, they are very high style at a very resonable price point. I got a pair of them for under $200! They were on sale after the holidays and I used a coupon. Woot! Woot! Mid century furniture is found through out my home as it mixes so well with both traditional and modern pieces. I love using different styles of furniture. It not only adds interest, but it creates a real collected, curated look as well.
3. Hearts
February can be a dreary month in the midwest, so I try to create little moments of joy around the house when I can. Hearts, vintage valentines, kids art are great ways to decorate during this wintery month.
4. Levis boyfriend jeans
Sorry for this candid shot....barefoot and taken by one of my girls! I just wanted to share my love for these jeans! They are stretchy, comfortably, look great with boots, and you can get them at Target! Winner! I cannot wait to wear them this summer with cute sandals!
5. This leg burning series!
As you all know by now, nothing makes me happier than a good lower body workout. Feeling sore after you work your glutes and quads is so very satisfying! This is a quick series of exercises that you can incorporate with a lower body workout or as part of your full body workout...either way, you will feel the burn!
6. wooden beads
I have been seeing large beaded jewelry in the most recent design hot spots. As you may have guessed, I love the look! They can give a real global feel and add great texture wherever you choose to use them. I've seen them range from reasonably priced (Target) to crazy expensive (Restoration Hardware). I actually made a strand myself with craft beads and a handmade tassle that I will share in an upcoming post.
If you want to save an idea from this post....save the pin below to your pinterest board!